We occasionally, as developers, build amazing features, tools, and services.  But we often forget how to factor in inclusive design into the code that we write.  There is a huge population of people out there who have varied abilities; everything from blindness to vestibular disorders, of which we need to take into consideration.

The general concept of artificial intelligence (AI) has been around for a long time, but it is only recently when all the necessary elements became generally available, that AI has become a practical and usable thing. In the next few years, we will start seeing how organizations can use AI to make technology accessible to people with disabilities.
Microsoft, Google, Amazon, Facebook, and a slew of other technology companies have been building algorithms and developing machine learning protocols in anticipation of this point in time for years, and all of that work is about to pay off. With Cognitive Services, Microsoft wants to make the transition to an AI-driven world as simple as it can for developers and enterprise decision-makers alike.
The most common kind of accessibility technology is the narrator feature on Windows, this is a piece of technology that has always been embedded in windows. This helps people who have visual disability. Over time, this feature has grown and with the advancement of Artificial intelligence and machine learning, Microsoft has enhanced this feature. So today if you use the Narrator screen reader feature and it comes up upon images, narrator will now leverage on AI to describe that image and embed text and speaking as part of the experience, so we no longer need to depend on people to write descriptions of these texts. We can now leverage the power of AI to deliver amazing experiences to the users of our technology.
Microsoft has done a lot over the years in terms of making technology accessible to those with disabilities, In his book "Hit Refresh", Satya Nadella, Microsoft CEO talks about his life experiences and how they have helped shape the way he thinks about making technology accessible. If you haven't read the book I encourage that you go ahead and read it. Satya's son is confined to a wheelchair because of paralysis due to cerebral palsy.
Today I'll be looking into the new different technologies that Microsoft has put in place to address Accessibility.
"We will Focus on designing and building products that our customers love and that are accessible to everyone and built for each of us" Satya Nadella, CEO, Microsoft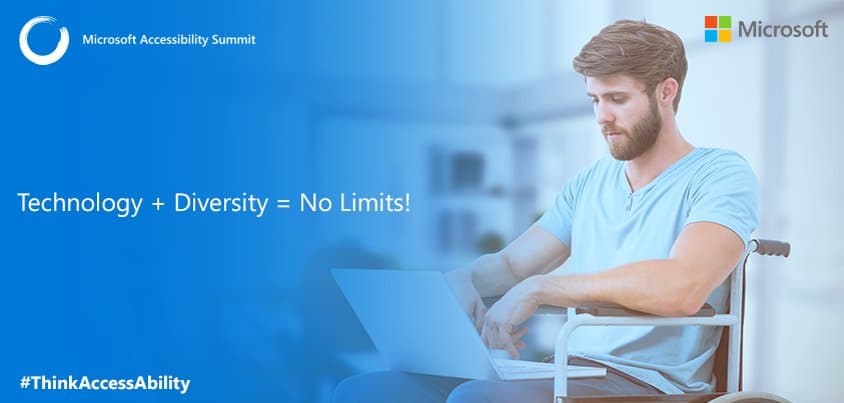 Microsoft Office
Word has many features built-in that help people with different abilities to read and author documents. Word also offers the Accessibility Checker that locates elements that might cause problems for people with disabilities and it would give recommendations on what needs to be done to allow your document to be accessibility-ready, it's something I tried out while writing this post.
Windows
Windows 10 Fall Creators update has in-built eye control features that would allow someone with limited mobility to control or even type on their PC with only their eyes.
This was influenced by a gentleman called Steven Gleason who suffers from ALS and came to Microsoft with remarkably interesting ideas on how Microsoft could help better his experience while using a PC
Windows 10 also has Color filters to help people who have color blindness. Color blindness affects one out of every nine men and there are a lot of different kinds of color blindness and now you can go into your "ease of use" settings in windows and enable those color filters and see windows in a different way.
The narrator is also one that has received several updates, so the windows team now makes sure that magnifier works with Narrator.
Microsoft Translator
Captioning is also especially important in the world of disability and Microsoft translator has been very key to the world of accessibility, Translator now has an interesting add-in into PowerPoint. Meaning, I could be watching someone on stage or on screen and as long as they are mic'ed up properly their speech will automatically appear on the screen caption. This in no way replaces the interpreter or translators but this now automatically avails captioning which gives a person independence.
Here are some of the technologies I have come across
Cortana
Cortana is your digital assistant. She'll help you get things done, such as setting reminders, opening apps, finding facts, and sending emails and texts. The more you use Cortana, the more personalized your experience will be. this allows you to interact with your PC/Phone without typing on it.
Speech recognition
This allows you to dictate documents and email or surf the web just by saying what you see. With a little training, it understands you. And because it runs locally, no network is required and your privacy is protected.
Braille Beta [New in the windCreators Update]
Narrator supports braille displays from more than 35 manufacturers using more than 40 languages and multiple braille variants, including grade 2 contracted braille.
Skype Translator
Instantly transcribes voice to text so you won't miss what's being said. You can even type a response and have it read to someone that can't see your response. Skype Translator uses machine learning, so the more you use it, the better it gets.
Closed captioning
Closed captions let you read the words that are spoken in movies or television shows. With Windows, you can customize things like color, size, and background transparency to suit your needs and tastes.
If you want to find out more about what Microsoft is doing around accessibility follow this blog.